MEETING OF NIFOR AND OIL PALM GROWERS ASSOCIATION OF NIGERIA (OPGAN)
VISIT OF THE HONOURABLE MINISTER OF AGRICULTURE TO DUTSE , NIFOR'S SUBSTATION ON THE 15TH OF SEPTEMBER , 2020.
INSPECTION  OF NIFOR CENTRAL ANALYSIS LABORATORY BY Dr. DONALD MADUKWE OF OCP AFRICA ON THE 23RD OF JULY,2020.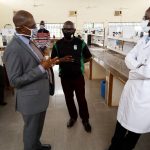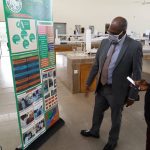 OCP Africa are funding NIFOR's soil fertility trails in Oil Palm in Oil Palm belt of southern Nigeria
IMC SEND – FORTH IN HONOUR OF ENGR. A. A. BADMUS
Engr. Badmus was a Research staff (Director Research) of NIFOR attached to the Agricultural Engineering and Research Division. He was the Head of the Department of Technology and Product Department until his retirement.